Instructor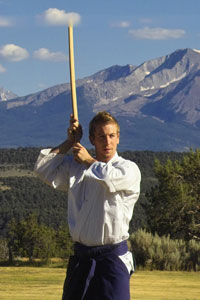 Karl Grignon Sensei
Karl Grignon started Aikido in Montréal Canada in 1994. Soon after he moved to San Diego, California where he trained with Bernice Tom Sensei 6th dan student of the late Morihiro Saito Shihan.
In 2003 he joined Aikido West and Frank Doran Shihan as his Uchideshi and had the priviledge to travel and attend most of Doran Sensei's seminars. He was promoted to the rank of 3rd Dan by Doran Sensei in March 2006, and 4th Dan in 2013.
Karl has been teaching aikido for more than 19 years and has attended multiple seminars and camps with Doran, Tissier, Endo, Ikeda, and many more. His teaching approach is to establish a comfortable environment in which a practitioner can start to explore his or her personnal ability and the feeling of self.